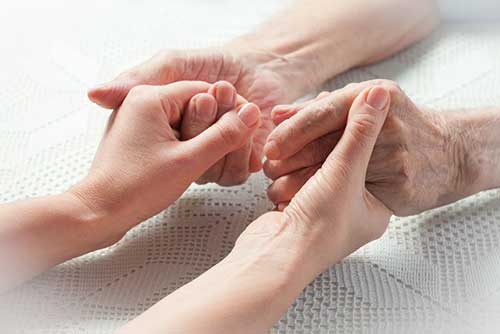 We at Trinity Community Care Clg (formerly known as Ballymun Home Help Service Ltd and Marino Fairview Home Care Service) are a registered Charity and were established to provide support in the community of Ballymun and Marino/Fairview over 40 years ago. The company has undergone significant change since its early days. The ethos of care and community remains at the centre of our activities. We are a partner in Dublin Home Care Partners and members of National Community Care Network (NCCN). We provide enhanced home support and personal care services through Home Care Packages on behalf of the HSE in the area of North Dublin. Our trained carers and Meals on Wheels volunteers provide services to individuals and families with complex and social care needs, enabling them to live full independent lives in their own homes. We provide support to older persons, persons with intellectual, mental health, physical and sensory disabilities and children with special needs.
Mission Statement
We believe that older people who are frail and vulnerable, within our community have the right to remain in their own homes for as long as possible and that they have a right to quality care and support to do this. We believe that children have the right to the kind of care that enables them to feel secure and happy in a healthy environment.
Our Aim
In working to our Mission Statement, our aim is to provide care and excellent service to those people who need it, old and young.
Core Values
The organisation has adopted and adheres with the following values:
Our service is determined by the community and area needs
To ensure best practice at all times
To Value and appreciate the commitments made by all of the company employees
To treat each person with dignity and respect
To promote justice, fairness, honesty and integrity in our workplace
To strive for excellence
AREAS COVERED ARE: Dublin 3, 5, 9 and 11
Marino, Fairview Clontarf, Donnycarney, Ballymun East, Beaumont, Whitehall, Swords Road, Drumcondra, Santry, Glasnevin, Ballymun West, Finglas, Poppintree, Cloghran (Co. Dublin) and as requested by the HSE
WHAT WE DO
The company provides person-centred care and support to older persons, families and persons with disabilities and this is achieved by planning, designing and delivering services in collaboration and co-operation with the HSE and service users. Hiring trained people who are passionate about their jobs, cultivating a work atmosphere that requires accountability and encourages excellence by defining policies and procedures that align with the requirements of the HSE. Deploying effective training programs, setting goals and performance standards as mechanism for enabling staff to understand and achieve required service levels, using tools and technology for information recording supporting optimal performance and adherence to industry standards.
The team approach which is our model of care is inclusive of the service user, their family, home care staff and healthcare professionals. In the not for profit sector we place a high value on our care staff and pay a fair hourly rate, they are in turn motivated to deliver exceptional care.
We use a web-based application Innovacare, specifically designed to address diverse and complex needs of a modern home care service and personnel management. The system enables us to systematically and proactively record and manage home care packages, schedule staff, monitor attendance, protect lone workers and run business reports.
It is our belief that the key to delivering a quality service, resulting in high levels of service user satisfaction and a safe workplace, resides in ensuring that the personnel carrying out the service are well trained. The company has a training programme in place to ensure that care staff achieve a major cert in Fetac level 5/QQI in Health Care Skills. On commencement of employment all new staff are provided with induction training including an initial period of on-the-job supervision.
CONFIDENTIALITY
We have strict policies and procedures regarding our service users' confidentiality and their right to privacy. During the staff induction our staff are fully trained on these policies and are not permitted to discuss your care with anyone outside your family. If they have any concerns, they must liaise with their line manager, who in turn will discuss with a family member or advocate as nominated by you.
SO WHY CHOOSE TRINITY COMMUNITY CARE CLG?
All of our Carers are Garda Vetted
All of our Carers were a uniform and carry an ID Card
Our Carers are all Fetac Level 5/QQI qualified in Care of the Older Person and Care Skills and working towards their full award in Health Care
All our Carers have Manual & Patient Handling Certification
All our Carers are supervised at regular intervals
All our Service Users will be assessed by our Care Operations Manager, using a professional FACE service user assessment form. During this assessment, we can discuss our services and provide you with a costing prior to agreement.
All our Service Users will have a Service User and Location risk assessment completed. We are fully compliant with Health & Safety Policies & Procedures for both Care Staff and Service Users
We have a comprehensive recruitment procedure, ensuring rigorous reference checks to ensure the highest standard in recruiting new care staff
Our Carer/Service User Monitoring System ensures you will always receive care. This system will flag us immediately if a Carer is late or not logged in.