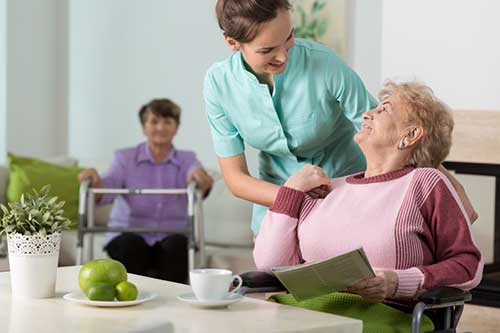 Induction and Training
In order to deliver high levels of service user satisfaction it is the belief of Trinity Community Care Clg that the key is to deliver a quality service through establishing a safe workplace for staff and service user alike by ensuring that the personnel carrying out the service are experienced, well trained and committed to all elements of their roles in the community.
All staff appointed will have achieved a minimum of 2 modules in Fetac Level 5/QQI award in Care of the Older Person and Care Skills and be working towards their full award in Health Care. They will engage in a full induction training programme, including an initial period of on-the-job supervision followed by a one-to-one performance management session with their line manager in line with the requirements set out by the HSE. They will have achieved a cert in Manual & Patient Moving and receive training on Children First as directed by the HSE. Manual & Patient Moving is renewed every 2 years by the Company. Induction training and on-the-job supervision will be delivered by our trained, experienced Supervisors and Management team.
Essential Qualities of Our Carers;
Conscientious
Dependable
Flexible (duties, clients, hours)
Caring
Empathetic
Honest
Discreet
Takes initiative
Punctual
Sensitive
Confident and assertive
Reliable
Sense of humour
Use common sense
Respectful
Diligent
Confidential
Skilled in providing care
Trustworthy
Maintains confidentiality
Understanding
Pleasant
Knows when to disengage
Kind
Friendly
Good listener 
Our Care Staff have spent time in further education gaining their Fetac Level 5/QQI in Health Care Skills in areas such as;
Communication Skills
Infection Prevention & Control
Care Support
Care Skills
Care of the Older Person
Palliative Care
Work Experience
Health & Safety at Work
Trinity Community Care Clg will abide by all the policies and procedures as Child Protection and Welfare training to ensure all staff are aware of their responsibilities under Children First and can recognise the signs of child abuse or neglect.
Training which conforms to the HSE's Safeguarding Vulnerable Persons at Risk of Abuse – National Policy and Procedures and ensuring all staff can recognise the various forms and signs of abuse.
Ensure all staff understand the concept of safeguarding and this training is included in induction and training programmes.
Training on medication management including procedures for obtaining prescriptions, prescribed medicines and recording information in the Service Users file, and assistance with prompting to take medicines when identified in the Care Needs Assessment and when detailed in the Home Care Plan